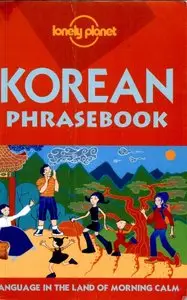 Lonely Planet Korean Phrasebook
Lonely Planet Publications | 2002-05 | ISBN: 1740591666 | 305 pages | PDF | 12 MB
Annyong haseyo! you say, and gently nod a greeting to your new, han-guk ch'in-gu, who comments on how well you speak Korean. You modestly reply chal mot'aeyo…
With this phrasebook, you can chat with your hosts in the minbak, let your hair down and sing along in a noraebang, or enjoy the stories of friendly farmers and mysterious monks as they guide you around. With a few words in the local language, you'll be savouring Korea's disarming hospitality at its best.
* all the words and phrases for a great stay in Korea
* a heaped serving of food terms ensures confident menu ordering
* buy knick-knacks at the market in the local language
* all there is to know about Korean etiquette and body language
* easy to use phonetic transliterations of the Hangul script throughout
* plenty of phrases to join in the friendly fun at soccer games
Summary: Lots of info in a tiny package
Rating: 5
This is a great little book packed with lots of grammar, useful phrases, vocabulary and even cultural notes. This is a very useful book to use either alone, or as a supplement to other Korean texts. I really like it because it is so small that I can carry it with me in my purse and read it when i'm waiting in line somewhere, or at a restaurant, etc.
I highly recommend getting this book. It is definatly much more than just a phrase book and I think you will find it very useful. There are lots of neat cultural references that I find very interesting. Worth the price.
Summary: Too complicated
Rating: 2
Don't bother getting this unless you want to learn how to speak Korean. If you just want a few simple phrases and how to say them look for something else.
Summary: Good book
Rating: 4
This is a real helpful book with a lot of key phrases. I really recommend this book to anyone who wishes to learn the basic phrases.
Summary: Lonely Planet Korean Phrase Book
Rating: 5
This pocket book has alot of great info packed inside. Something for almost everything that might come up. I am very happy with it
Summary: Good book - difficult language
Rating: 5
I have been in Seoul off and on - for business - for the past year. Despite rumors to the contrary, I find this an extremely difficult language. Most Koreans under the age of thirty have a working knowledge of English. Ordering coffee at Starbuck's is certainly not a problem, restaurants are often a problem, department stores pretty impossible. Once you get used to the sections in this book, at the very least you can point. Certain phrases are just good to know. It may seem stupid, but being able to say "Hello" or "Thank you" is extremely endearing to Koreans and it seems to me that this is the very least we can do. The size makes it easy to carry around and it's the least expensive phrase book I've found.