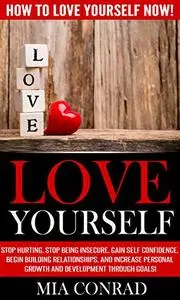 Love Yourself: How To Love Yourself NOW! - Stop Hurting, Stop Being Insecure, Gain Self Confidence, Begin Building Relationships, And Increase Personal … Goal Setting, Self Esteem, Self Discipline) by Mia Conrad
English | 2014 | ISBN: N/A | ASIN: B00N6HWWZA | 55 pages | EPUB | 0.42 Mb
Love Yourself For Who You Are - NOW!This "Love Yourself" book contains proven steps and strategies on how to eliminate your insecurities and negative perceptions about yourself and build a more meaningful life.
It is often said that you cannot love another person unless you love yourself. This statement is often said in television shows and you often read this in books that it has become a clichй; but what does it really mean to love yourself?
This book will help you understand the concept of self-love and will give you answers to the common questions about self-love. It also contains techniques that you can use to increase your self-esteem, self- confidence and self-love.
This book will help you appreciate yourself more and become your very own best friend. It will help you improve your sense of self-love and self-worth so you can attract healthier and more fulfilling relationships and live a life that is filled with happiness, acceptance and success.
Here Is A Preview Of What You'll Learn…
Why Do Some People Love Themselves More Than Others?
What Does It Really Mean To Love Yourself?
How To Develop Inner Peace Using Mindfulness Meditation?
The Importance Of A Morning Routine and Self Love
Why You Have To Have Self-Discipline To Increase Your Self-Esteem And Love Yourself?
How To Stop Insecurity For Good And Regain The Control Of Your Emotions?
The Health Of Relationships In Your Life And How They Impact Your Love For Yourself
The Importance Of Goals Regarding Self-Love And Confidence
20 Tips For Setting The Perfect Goals
How To Measure Your Progress And Reward Yourself Each Day For Falling In Love With Yourself And Building Confidence
Much, Much More!