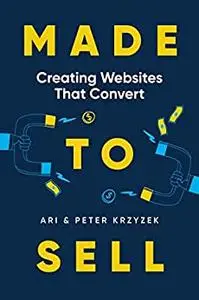 Made to Sell: Creating Websites that Convert by Ari Krzyzek, Peter Krzyzek
English | October 24, 2022 | ISBN: N/A | ASIN: B0BGQPKK3F | 262 pages | MOBI | 8.72 Mb
Why did you create a website?
Sure, in today's business world having a website is almost a requirement. But what that website achieves, beyond simply showing you live in the digital world, is entirely up to you. Just because you built something does not mean the masses will come to learn more about your brand, buy your products, or sign up for your services. It would be great if that was the case, but it isn't.
In "Made to Sell: Creating Websites That Convert" Ari & Peter peel back the curtain to reveal tips and tricks to transform your website, and in turn, your brand and revenue. Whether you have a simple one page site or a complex retail store with thousands of products, we will show you how to move from a pretty store front to a powerful marketing tool. Some of the concepts Peter and Ari breakdown are
Website Roadmaps
Brand Building
Optimizing User Experience
Elements of Design
Science of Analytics
Traffic Generation
Praises for Made to Sell: Creating Websites that Convert:
"If your goal is to have a website that works for you instead of the other way around, Ari & Peter are going to let you in on the top strategies to make that happen for your business."
– Jessica Zweig, CEO of SimplyBe. Agency, Forbes Personal Branding Expert, Author of the #1 bestselling book "Be."
"Made to Sell offers the inside-knowledge you need to take your website to the next level and unlock business opportunities for you."
– Randy Kravitz, Executive Director, Goldman Sachs 10,000 Small Businesses"A must-read for anyone leading a website project. Ari & Peter simplify the process of planning, creating, and launching a website in an easy-to-digest way."
– Chris Do, Emmy award-winning designer, director, CEO & founder of The Futur"Such a fresh, enjoyable, and practical book for anybody who has the daunting task to build a website that sells. Ari and Peter share many marketing secrets about how to build a successful online business. I will recommend Made To Sell to my startup clients."
– Anne Cocquyt, Founder & CEO of The GUILD, Investor & Advisor to Startups, Author of the #1 bestselling book "Dare to Launch: Mini MBA for First-Time Entrepreneurs"
"Ari & Peter give a lot of insight into how to build a website for marketing your business. Through this book, you'll learn how to create a winning website and how to gain more clients."
– RR Abrot, Technical Architect, Webflow"Made to Sell is clear, concise, and provides strategies and tactics that you can use to create a website that converts. While the book is short and to the point, it is packed full of actionable tips and insights that will make your website user experience better."
– Valarie King-Bailey, Founder & CEO of OnShore Technology Group, Inc. 5000 America's Fastest-Growing Private Companies
"Made to Sell is a must-read for those who plan to launch a web project. There are a lot of helpful tips and information in the book that can help you create a successful online business that will last and grow your business. It is a fantastic resource that can help you build your business and gain ROI."
– Genevieve Thiers, Co-founder & CEO of Entertainmint, Tech Disruptor, Entrepreneur, Speaker and Investor
Feel Free to contact me for book requests, informations or feedbacks.
Without You And Your Support We Can't Continue
Thanks For Buying Premium From My Links For Support