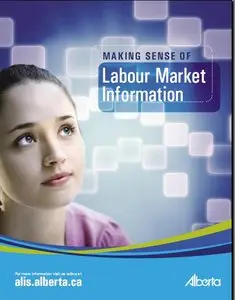 Making Sense of Labour Market Information (2008)
Learning Resources Centre | February 2008 | ISBN: 0778554023 | 35 pages | PDF | 2 MB
If you're not sure what labour market information is, why you need it or where to find it, then this book is for you. It provides examples of how to use labour market information when making career, learning or employment decisions.
Career choices are important. They affect our lives and our families. For this reason we want to make the most informed decisions we can. We make good choices when we:
• Have A Thorough Understanding Of Who We Are And What We Want In Our Work And Life
• take the time to gather accurate, up-to-date labour market information
• Combine And Apply Information About Ourselves And The Labour Market In Creative Ways.
A quick overview of these steps is listed below. Although this book focuses on how to gather labour market information, knowledge of the other steps will help you better apply the information you find to your individual career plan.
Self-assessment means taking stock of your values, interests and skills. A detailed self-assessment makes your career choices clearer. You can add new skills and experiences to your list and review changes in your values or interests that may affect your career path.
Before you go any further with learning about labour market information (LMI), you may want to spend some time assessing yourself. There is no single "test" that will tell you exactly what you should do, but there are a variety of print and electronic resources available to help you assess who you are and what you want.