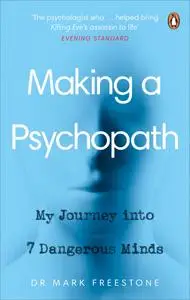 Making a Psychopath: My Journey into 7 Dangerous Minds by Mark Freestone
English | October 15th, 2020 | ISBN: 1529106540 | 304 pages | True EPUB | 1.21 MB
The closest you can get to the most dangerous minds.
Find out what truly makes a psychopath, from the leading expert who helped to create Killing Eve's Villanelle. Dr Mark Freestone has worked on some of the most disturbing psychopath cases of recent times - this is his extraordinary journey with the people society would rather forget.
Danny 'the Borderline' killed his defenceless friend without explanation. Tony 'the Conman' once tried to dupe someone into buying the Eiffel Tower. Jason 'the Liar' had a fantasy life that led to vicious murders around Europe.
With its page-turning true crime storytelling and searing first-hand experience that will leave you reeling, this book opens up a window onto the unseen world of those who operate in a void of human emotion … and asks how we will stop them.
'The psychiatrist who created Killing Eve's anti-heroine' The Telegraph
'The psychopath, revised' Psychology Today
Enjoy
My Blog.
No any convert or low quality!