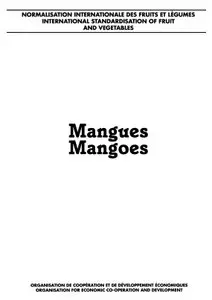 INormes Internationales aux Fruits et Légumes : Mangues / International Standards for Fruit and Vegetables: Mangoes
OCDE / OECD | Nov 1993 | ISBN: 9264038930 9789264038936 9789264071551 | 64 pages | PDF | 2 MB
Cette brochure constitue les « commentaires » du Secrétaire Général de l'OCDE qui les déclare en harmonie avec la norme « Mangues ».
This brochure is to be considered as the «comments» by the Secretary-General of the OECD who declares them in line with the standard for «Mangoes».
Des brochures sont publiées sous forme de commentaires et d'illustrations, en vue de faciliter l'interprétation commune des normes en vigueur, tant de la part des services de contrôle que des milieux professionnels responsables de l'application des normes ou intéressés aux échanges internationaux de ces produits.
Explanatory brochures comprising comments and illustrations are published to facilitate the common interpretation of standards in force by both the Controlling Authorities and professional bodies responsible for the application of standards or interested in the international trade in these products.
Contents
AVANT-PROPOS: FOREWORD
TABLEAU COMPARATIF RESUME DES DISPOSITIONS DE LA NORME
COMPARATIVE SUMMARY TABLE OF REQUIREMENTS LAID DOWN BY THE STANDARD
Texte officiel de la norme : Official text of the standard
I. DEFINITION DU PRODUIT: DEFINITION OF PRODUCE
- Texte interpretatif de la norme : Interpretation de la norme of the standard
II. DISPOSITIONS CONCERNANTLA QUALITE : PROVISIONS CONCERNING QUALITY
A. Caracteristiques minimales : Minimum requirements
B. Classification : Classification
- ANALYSE DE LA CATEGORIE «EXTRA» : ANALYSIS OF «EXTRA» CLASS
- ANALYSE DE LA CATEGORIE I: ANALYSIS OF CLASS I
- ANALYSE DE LA CATEGORIE II: ANALYSIS OF CLASS II
III. DISPOSITIONS CONCERNANTLE CALIBRAGE : PROVISIONS CONCERNING SIZING
- CALIBRAGE : SIZING
IV. DISPOSITIONS CONCERNANT LES TOLERANCES : PROVISIONS CONCERNING TOLERANCES
- TOLERANCES DE QUALITE : QUALITY TOLERANCES
- TOLERANCES DE CALIBRE : SIZE TOLERANCES
V. DISPOSITIONS CONCERNANT LA PRESENTATION : PROVISIONS CONCERNING PRESENTATION
- PRESENTATION ET EMBALLAGE : PRESENTATION AND PACKAGING
VI. DISPOSITIONS CONCERNANT LE MARQUAGE : PROVISIONS CONCERNING MARKING
- MARQUAGE : MARKING
LISTE DES PAYS : LIST OF THE COUNTRIES
with TOC BookMarkLinks