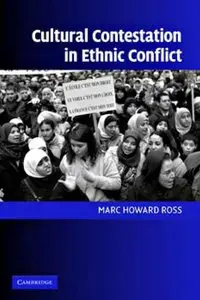 Marc Howard Ross - Cultural Contestation in Ethnic Conflict
Cambridge University Press | 2007 | ISBN: 0521870135 | Pages: 384 | PDF | 5.57 MB
Ethnic conflict often focuses on culturally charged symbols and rituals that evoke strong emotions from all sides. Marc Howard Ross examines battles over diverse cultural expressions, including Islamic headscarves in France, parades in Northern Ireland, holy sites in Jerusalem and Confederate flags in the American South to propose a psychocultural framework for understanding ethnic conflict, as well as barriers to, and opportunities for, its mitigation. His analysis explores how culture frames interests, structures demand-making and shapes how opponents can find common ground to produce constructive outcomes to long-term disputes. He focuses on participants' accounts of conflict to identify emotionally significant issues, and the power of cultural expressions to link individuals to larger identities and shape action. Ross shows that, contrary to popular belief, culture does not necessarily exacerbate conflict; rather, the constructed nature of psychocultural narratives can facilitate successful conflict mitigation through the development of more inclusive narratives and identities.