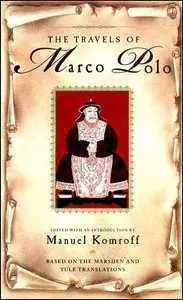 Marco Polo - The Travels of Marco Polo
W. W. Norton & Company | 2002 | ISBN: 0393979687 | Pages: 370 | PDF | 1.95 MB
Chosen as one of the ten best adventure books of all time by National Geographic Adventure, The Travels of Marco Polo remains a wondrous and exciting story. Chronicling the thirteenth-century world from his birthplace, Venice, to the far reaches of Asia, Marco Polo tells of the peoples he meets as he travels by foot, horse, and boat through places like Persia, the land of the Tartars, Tibet, and, most important, China. There he stays at the court of Kublai Khan, venturing to both the capital of Beijing and Shangtu, made immortal in Coleridge's poem "Xanadu."
We become travelers along with Polo, visiting cultures he only heard about in tales that seemed more like legends than reality. He records small details of domestic life, as well as commenting on how medicine is practiced and how marriages are arranged. He finds that the Chinese actually do use paper currency instead of the gold and silver currency of the West. He is amazed by a black stone that burns for hours to heat their homes, thus learning about coal. Engaging with people who follow Islam and Buddhism, he perceives their religions as best he can through the lens of his own Christianity. And he regales the reader with the great battles fought during Kublai Khan's reign.
Finally he returns to Venice after a three-year journey and almost twenty years away. Going by way of India and Sumatra, being kidnapped and robbed, he is no longer the youth of seventeen. A few years after his return, he is taken in battle with the Genoese and dictates this book to a fellow prisoner. Now, seven hundred years later, it is still a gripping look at a legendary place and time.
This classic edition uses the traditional lyrical Marsden translation. To make it more accurate, editor Manuel Komroff corrected it against Henry Yule's magisterial two-volume work, including a chapter missing from the Marsden.