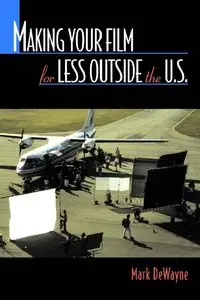 Mark DeWayne - Making Your Film for Less Outside the U. S.
Allworth Press | 2002 | ISBN: 1581152159 | Pages: 272 | PDF | 1.82 MB
Now every filmmaker can make the film of his or her dreams for less money (and with more artistic control), thanks to the sound advice in this essential step-by-step guide to producing and distributing films overseas. One-on-one interviews with nine industry professionals reveal the latest information on out-of-country marketing trends, writing for overseas production, new digital film and video techniques, and much more. Also featured is a sample budget for an overseas shoot, as well as a valuable overview of production costs among the US and Canada, Mexico, England, France, the Philippine Islands, Australia, Thailand, and many other top locations. For any director, producer, screenwriter, or filmmaker who wants to turn a film project into a reality, Making Your Film for Less Outside the U.S. is the perfect, hands-on guide!
Thanks to original uploader!

Do you know only a small part of all books is visible on the AvaxHome Homepage (@ Home)?
To see all of them use
eBooks
category.
If you enjoy my books look at my
…::No mirrors, please::…