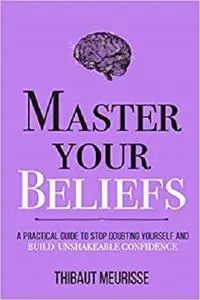 Master Your Beliefs: A Practical Guide to Stop Doubting Yourself and Build Unshakeable Confidence y Thibaut Meurisse
English | September 8, 2020 | ISBN: N/A | ASIN: B08HQ92VRH | 212 pages | EPUB | 0.40 Mb
Discover a specific formula to build unshakeable self-belief
Are you sick of seeing less talented people powering ahead of you? Are you tired of doubting yourself every step along the way? Do you feel as though life is passing you by while you remain stuck and lacking in the confidence needed to pursue your dreams?
If so,
Master Your Beliefs
is for you.
Amazon bestselling author
, Thibaut Meurisse, wants you to develop rock-solid confidence so that you can finally go after the things you really want. His latest book,
Master Your Beliefs
offers a clear and concise walkthrough that demonstrates how you can use belief to transform your life. Using these straightforward instructions, you'll learn how to use the power of belief to turn your thoughts into reality and achieve more than you ever thought possible.

In Master Your Beliefs, you'll discover the following:
Why anyone can become confident (and how you can do it).
The five characteristics of belief (and why they matter).
The specific Belief Formula that will bolster your confidence.
The #1 meta-belief that will change everything for you.
The seven core beliefs that will transform your life, and much, much more.
Master Your Beliefs
is your must-read, must-follow guide to help you build unshakeable confidence so you can finally achieve your goals. If you like easy-to-understand strategies, practical exercises, and no-nonsense teaching, you will love this book.
Buy Master Your Beliefs and start building unshakeable confidence today!
This is book seven in the Mastery Series. The first six are:
Book 1 - Master Your Emotions: A practical guide to overcome negativity and improve the way you manage your feelings.
Book 2 - Master Your Motivation: A practical guide to unstick yourself, build momentum and sustain long-term motivation.
Book 3 - Master Your Focus: A practical guide to stop chasing the next thing and focus on what matters until it's done.
Book 4 - Master Your Destiny: A practical guide to rewrite your story and become the person you want to be.
Book 5 - Master Your Thinking: A practical guide to align yourself with reality and achieve tangible results in the real world.
Book 6 - Master Your Success: Timeless principles to develop inner confidence and create authentic success
Feel Free to contact me for book requests, informations or feedbacks.
Without You And Your Support We Can't Continue
Thanks For Buying Premium From My Links For Support