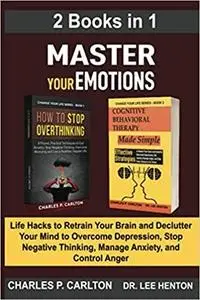 Master Your Emotions (2 Books in 1): Life Hacks to Retrain Your Brain and Declutter Your Mind to Overcome Depression, Stop Negative Thinking, Manage Anxiety and Control Anger by Dr. Lee Henton
English | July 14, 2020 | ISBN: N/A | ASIN: B08CWM84V5 | 365 pages | EPUB | 1.06 Mb
Do you want proven and tested strategies to overcome your negative feelings? Do you feel overwhelmed by depression? Dreadful from anxiety? Crippled by negative thinking? Frequent and explosive anger that makes you lash out over everything and at everyone? Or do you simply feel a strong wave of panic attacks that strikes at the most inopportune times? If so, then read on…
If you have ever been so consumed by negative emotions that you thought they would never go away, then you are not alone. The fact is, we have all had our fair share of being overcome by negative emotions at some point in our life. However, it is our primary responsibility to ensure that we do not get emotionally thrown off balance by taking guided steps to find relief as soon as possible and reclaim control over our mental health and overall wellbeing. The solution to dealing with negative emotions is first to understand the inner workings of your emotions and your mind, and then applying the
carefully detailed techniques and strategies
laid out in this book to ensure you manage them as effectively as possible.
In the
Master Your Emotions
book
,
you will discover the step-by-step process to deal with your negative emotions to enable you take control of your emotional wellbeing and live a more fulfilling life. With the case studies and practical exercises in this book to guide you along the process, you are on your way to breaking the hold of negative spirals holding you back from living the life you truly desire.
This book is made up of two parts:
How to Stop Overthinking: 8 Proven, Practical Techniques to End Anxiety, Stop Negative Thinking, Overcome Worrying, and Live a Healthier, Happier Life.
Cognitive Behavioral Therapy Made Simple: Effective Strategies to Rewire Your Brain and Instantly Overcome Depression, End Anxiety, Manage Anger, and Stop Panic Attacks in its Tracks.
In Part I of this book, How to Stop Overthinking, you will;
Discover the various factors in your life that cause you to overthink
Gain a deeper understanding of your thoughts and behaviors
Know how to get unstuck from your past, live in the present, and be unafraid of your future
Know how to apply mindfulness and meditation to gain more peace of mind
Be able to keep yourself from falling back into the habit of overthinking
In Part II of this book, Cognitive Behavioral Therapy Made Simple, you will;
Understand how your thoughts determine your feelings and behaviors.
Discover science-backed research why CBT is a very effective therapeutic option for depression, anxiety, anger, and panic attacks.
Be enlightened on how the negative thoughts that fuel your negative emotions develop, and how you can identify them when they come to mind.
Uncover life hacks that you can apply right away to challenge and replace your negative thoughts with more rational thoughts.
Discover tailored and proven techniques you can start right now and how you can apply them to overcome depression, end anxiety, manage anger, and stop panic attacks.
…and much more!
Feel Free to contact me for book requests, informations or feedbacks.
Without You And Your Support We Can't Continue
Thanks For Buying Premium From My Links For Support