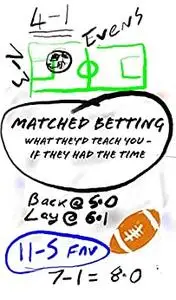 Matched betting: What they'd teach you in they had the time by Kevin Bennett
English | 2020 | ISBN: N/A | ASIN: B083RCRQB8 | 41 pages | PDF | 1.65 Mb
This book looks at the subject of matched betting. It looks at the maths behind the odds and percentages. I am a numbers geek and the formulas behind the matched betting idea fascinated me. I have taken the maths and show you how to implement them into a spreadsheet. This spreadsheet will allow you to take advantage of matched betting without paying a monthly few to an on line odds checker.
Feel Free to contact me for book requests, informations or feedbacks.
Without You And Your Support We Can't Continue
Thanks For Buying Premium From My Links For Support