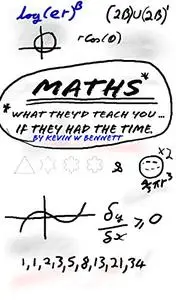 Maths - What they'd teach you….if they had the time: How your teachers would like to teach maths if they had the time by K B tutoring and training
English | October 15, 2014 | ISBN: N/A | ASIN: B00OKCAFA4 | 70 pages | AZW3 | 0.75 Mb
Pythagoras always work ? Where does calculus come from ? What's the point of trigonometry ? Why does that work ? Where does that come from ? These are questions that may have considered but as teachers and tutors are often stretched and short of time don't have time to explain them to you. Students are often taught how to follow the steps to solve the problem.
Feel Free to contact me for book requests, informations or feedbacks.
Without You And Your Support We Can't Continue
Thanks For Buying Premium From My Links For Support