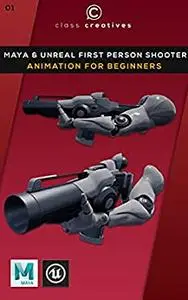 Maya & Unreal First Person Shooter Animation for Beginners by Class Creatives
English | 2021 | ISBN: N/A | ASIN: B096HMF5NN | 52 pages | PDF | 7.38 Mb
In this foundation course we will be learning the fundamentals of Character Animation and game development. (specifically for the Unreal engine, but this method will also work for other game engines such as Unity).
Learn everything necessary to learn First Person Shooter based Character Animation utilizing Autodesk Maya taught by a AAA game professional with university level accredited instruction!
Autodesk Maya is the industry standard 3D animation software, understanding the concepts in this course will help you land a job in the game, film, tv, or music industry. In this course you will learn how to animate the Unreal Mannequin utilizing motion capture and keyframe animation.
We will cover the following core skill sets:
Getting started with Maya and understanding the animation process
Understanding how to utilize the reference image plane in Maya to create realistic game engine ready animations
Strong Fundamentals of Animation Body Mechanics
Process of using IK/FK controllers and best practices of Unreal Engine's A.R.T. tools for Autodesk Maya
Unreal Engine's A.R.T. rigging tools for Autodesk Maya
Animating with keyframes
Animating a production ready Idle, Weapon Fire, and Weapon Reload quickly and efficiently
Fundamentals of motion capture and how to edit motion data
How to create unique custom animations based on video reference mixing keyframe and motion capture techniques
Utilizing motion capture to animate the cinematic camera with the hot and new VirtuCamera app plugin
Basic Blueprint setup in Unreal for game functionality
Cinematic creation process utilizing Unreal Engine's Sequencer
Advanced polish process to create professional level animation ready for game engine (Unreal/Unity) export
Includes all the rigs and base motion capture necessary to learn while following along
Feel Free to contact me for book requests, informations or feedbacks.
Without You And Your Support We Can't Continue
Thanks For Buying Premium From My Links For Support