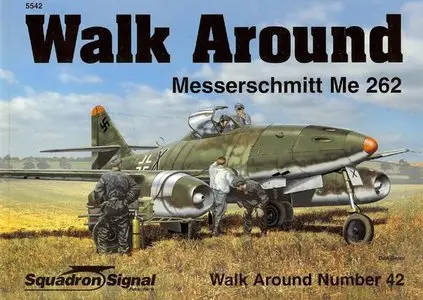 Messerschmitt Me 262 (Walk Around 42) By Hans-Heiri Stapfer
Publisher: Squadron/Signal Publications Inc. 2006 | 82 Pages | ISBN: 0897475003 | PDF | 16 MB
The Messerschmitt Me 262 was the flfst operational jet fighter in the world. Its Jumo 004 turbojet powerplants and swept wing made it one of the most extraordinary designs of World War IT. The Me 262A-1a achieved an incredible top speed for its time of 870 km/h (497 mph) at an altitude of 6000 meters (19,685 feet), nearly 200 km/h faster than the North American P-51 Mustang. The Me 262 also employed the deathly firepower of four nose-mounted MK-1 08 30 mm cannon. Its operational service, however, was hampered by the unreliability of its engines and its weak undercaniage. The flfst selial-produced Me 262A-1a (Werknummer 1300061VI+AF) took off on its maiden flight on 28 March 1944. The flfSt Me 262s were allocated to Erprobungskommando 262, a special fighter evaluation unit of the Luftwaffe under the command of Hauptmann (Captain) Werner Thierfelder, on 19 April 1944 at Lechfeld airfield in Bavaria. Leutnant (Lieutenant) Alfred Schreiber scored the flfSt victOly with the Me 262, and the flfSt victory ever of a jet-powered fighter, when he shot down a Mosquito on 26 July 1944. The Blitzbomber (literally "lightning bomber") version received the designation Me 262A-2a. The Me 262A-2a had the upper two MK-108 cannons removed and a pair ofETC 503 Wikingerschijf ("Viking ship") bomb racks mounted on the nose undersurface. The Me 262A-2a could carry either two SC-250 blast bombs or two SD-250 fragmentation bombs. A total of 1,433 Me 262s were built, assembled at Leipheim (Kuno I and Kuno IT), Schwabisch Hall-Hessental, Obertraubling near Regensburg, Neuburg/Donau-Bruck, Eger, Kahla, and Brandenburg-Bliest. Messerschrnitt AG made wide use of concentration camp pdsoners and forced labor supplied by the Waffen SS-owned Deutsche Erd- und Steinwerke GmbH (German Earth and Stone Works Company) to keep Me 262 production at a rapid pace. Nearly 53,000 prisoners and forced laborers were employed in the manufacture of parts, components, and final assembly. Czechoslovakia became the only other country in the world to use the Messerschmitt jet fighter operationally. The Avia company at Cakovice began building the Me 262 from components left behind in the country after the end of World War IT. The type received the designation S-92. A total of seven S-92 and three CS-92 trainers were built, the last S-92 being accepted on 24 September 1948. The S-92 became a training aircraft in 1949. Most S-92s and CS-92s were phased out of service after 1951 and subsequently scrapped.
NO PASSWORD


!!!No Mirrors below, please! Follow Rules!