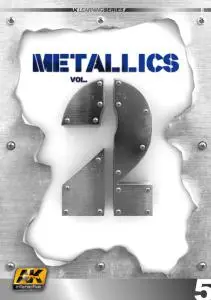 Metallics Vol. 2 (AK Learning Series 5)
AK Interactive | 2016 | English | ASIN: B01BKX3K2K | True PDF | 94 pages | 38 MB
Metallics have always been a hard task for all modellers. It does not matter which modelling brand you choose, at some point you will find yourself in front of of a metal piece/part, which, of course, you will want it to be as much realistc as possible.
There exist many ways to achieve a metal finish from the use of enamels, to waxes and bare metal sheets. In these two volumes dedicated to metallics inside the AK Learning Series talented artists take you on a journey thorugh the difficult tasks of mastering metallics.
In this second volume we will show you different techniques on how to paint metal on historical and fantasy figures. How to apply properly for example painting without metallic paints and many different ways to achieve realistic metal finishes.
AK Learning Series: Metallics volume 1 & 2 are the definitve resource to undesrtand metallics in scale modelling.