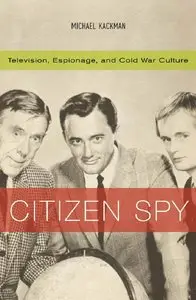 Michael Kackman - Citizen Spy: Television, Espionage, and Cold War Culture
University of Minnesota Press | 2005 | ISBN: 0816638284 | Pages: 278 | PDF | 2.33 MB
In Citizen Spy, Michael Kackman investigates how media depictions of the slick, smart, and resolute spy have been embedded in the American imagination. Looking at secret agents on television and the relationships among networks, producers, government bureaus, and the viewing public in the 1950s and 1960s, Kackman explores how Americans see themselves in times of political and cultural crisis. During the first decade of the Cold War, Hollywood developed such shows as I Led 3 Lives and Behind Closed Doors with the approval of federal intelligence agencies, even basing episodes on actual case files. These "documentary melodramas" were, Kackman argues, vehicles for the fledgling television industry to proclaim its loyalty to the government, and they came stocked with appeals to patriotism and anti-Communist vigilance.
As the rigid cultural logic of the Red Scare began to collapse, spy shows became more playful, self-referential, and even critical of the ideals professed in their own scripts. From parodies such as The Man from U.N.C.L.E. and Get Smart to the more complicated global and political situations of I Spy and Mission: Impossible, Kackman situates espionage television within the tumultuous culture of the civil rights and women's movements and the war in Vietnam. Yet, even as spy shows introduced African-American and female characters, they continued to reinforce racial and sexual stereotypes.
Bringing these concerns to the political and cultural landscape of the twenty-first century, Kackman asserts that the roles of race and gender in national identity have become acutely contentious. Increasingly exclusive definitions of legitimate citizenship, heroism, and dissent have been evident through popular accounts of the Iraq war. Moving beyond a snapshot of television history, Citizen Spy provides a contemporary lens to analyze the nature—and implications—of American nationalism in practice.
Michael Kackman is assistant professor in Radio-Television-Film at the University of Texas, Austin.