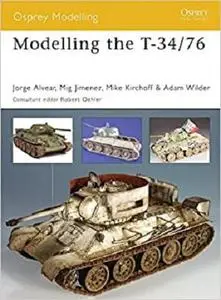 Modelling the T-34/76 by Jorge Alvear
English | September 26, 2006 | ISBN: 1841769290 | 80 pages | PDF | 23 Mb
The Russian T-34 was the most influential tank design of World War II, with its sloping armour, heavy hitting firepower and rapid mobility. It first saw combat in the summer of 1941, and its qualities soon set it apart from other medium tanks of the period. However, its battlefield superiority did not last long, and it was soon matched by German designs such as the Panther. Several models, designated by years, were produced between 1940 and 1943, featuring changes such as upgunning (model 1941) and redesigning the turret (model 1943). More T-34s were produced by the Allies than any other tank. The T-34-76 was produced until mid-1944, when it was replaced with the better armed T-34-85, the subject matter of a planned future Osprey Modelling title.
The modeling community is well served with several full kits and a plethora of aftermarket items to cater for the interest in the T-34/76, and it remains one of the most popular World War II Allied modeling topics with new kits being released. This title guides the reader through the basics of assembly and finishing, before progressing to more advanced modelling projects using conversion kits and extensive scratchbuilding. It covers both 1/35- and 1/76-scale versions of the T-34/76.
Feel Free to contact me for book requests, informations or feedbacks.
Without You And Your Support We Can't Continue
Thanks For Buying Premium From My Links For Support