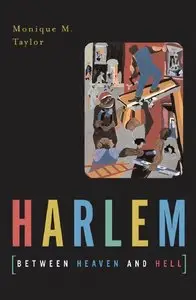 Monique M. Taylor - Harlem between Heaven and Hell
University of Minnesota Press | 2002 | ISBN: 0816640513 | Pages: 280 | PDF | 1.72 MB
Harlem brings to mind a kaleidoscope of images-the jazz clubs and cultural ferment of the 1920s and 1930s, the urban decay of the 1960s and 1970s, and the revitalization of the past twenty years, with artists, writers, professionals, and even an ex-president moving to a community often seen as the capital of black America. Integral to the ongoing transformation of Harlem has been the return of the African-American middle class to what had become an overwhelmingly poor area. In this lively book, Monique M. Taylor explores the stresses created by this influx, the surprising ways class differences manifest themselves and are managed, and what we can learn from examining a community in which race and class are so closely intertwined.
Harlem between Heaven and Hell is told through a look at history, literature, redevelopment strategies, community activism, and extensive interviews with black professionals-married and single, with children and without, long-term residents and recent arrivals. In their voices we hear of the cultural legacy, political commitments, economic considerations, and desire for community that drew them to Harlem. They tell us of the complexities of gentrification and their own role in it: the trepidation and distrust that often greeted their arrival, the challenges of renovating Harlem's historic brownstones in the face of entrenched neighborhood decay, learning and shaping the social mores of the area. Two key questions underlie these accounts: What does it mean when blacks move in alongside blacks of a different social class? How can a neighborhood successfully balance racial and class diversity in the face of rapid change?
Taylor places this intraracial class conflict within the context of America's changing race relations, showing how the feelings and issues that have arisen-to oppose, embrace, or participate in gentrification-reveal unsettled questions surrounding race, racism, class, and culture in a changing urban landscape. Through her incisive description of the everyday ways race and class are experienced, she has created a vivid exploration of black middle-class identity in the post-civil rights era.
Monique M. Taylor is associate professor of sociology at Occidental College.