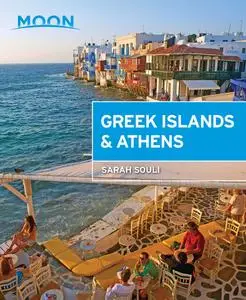 Moon Greek Islands & Athens: Island Escapes with Timeless Villages, Scenic Hikes, and Local Flavors (Travel Guide) by Moon Travel Guides, Sarah Souli
English | April 7th, 2020 | ISBN: 1640491473 | 520 pages | EPUB | 37.55 MB
Soak up the sun, dance till dawn, hike through wild forests, or explore Greek history: Escape to the Mediterranean with Moon Greek Islands & Athens.
• Choose the right islands for you, with strategic itineraries for different timelines, budgets, and activities, whether you want to lounge on the best beaches, linger in ancient villages, explore the outdoors, or island-hop for a little taste of everything
• Focused coverage of Athens and 18 Greek islands, including Santorini, Mykonos, Karpathos, Corfu, Lefkada, and more
• Unique experiences and must-see highlights: Marvel at Oia's picturesque blue and white architecture, or take a boat to the birthplace of Apollo. Soak in therapeutic hot springs, hike through lush forests to waterfalls in Samothrace, or hop aboard a boat and discover hidden coves and wild beaches. Learn about local folklore in Olympos, explore Athens' contemporary galleries and ancient ruins, and savor authentic Greek cuisine, from roasted lamb, olives, and dakos to ouzo and fiery shots of raki
• Insight from Athens local Sarah Souli on how to experience Greece like an insider, support local businesses, and avoid over-tourism
• Full-color photos and detailed maps throughout
• Background information on the landscape, history, and cultural customs of Greece and each individual island
• Handy tools and practical necessities like advice on getting there and getting around, and tips for solo travelers, seniors and visitors with disabilities, LGBTQ+ travelers, and families with kids
• In-depth coverage of: Athens, Santorini, Mykonos, Folegandros, Milos, Naxos, Anafi, Karpathos, Rodos, Kalymnos, Samothrace, Ikaria, Lesvos, Alonnisos, Skyros, Corfu, Zakynthos, Lefkada, and Crete
With Moon's practical tips and local know-how, you can experience the best of Athens and the Greek islands.
Enjoy
My Blog
. No any convert or low quality!