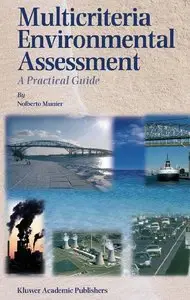 "Multicriteria Environmental Assessment: A Practical Guide" by Nolberto Munier
Power Electronics and Power Systems
Sрringеr | 2004 | ISBN: 1402020880 9781402020889 9781402020902 | 332 pages | PDF | 6 MB
The purpose of this book is to analyze, with actual examples, different techniques that have been developed to tackle the complex task of making an Environmental Impact Assessment (EIA) of a project.
This book is subtitled A Practical Guide, precisely because it tries to guide the practitioner in this labyrinth of techniques, by suggesting the best tools to use in each case, complementing this with abundant Internet references that provide a fast way to get more information about specific concepts, and facilitating the examination of actual EIA in many different fields.
A project may influence the lives of many people, can change the physical environment temporarily or forever, and creates benefits or losses, not only for the people who promoted it, but also for those not related whatsoever with the project.
Thus, its assessment is not only a commercial evaluation of gains and losses, but it goes far beyond that, for it also has to appraise:
-how people's way of life will be affected;
-how significant the alteration produced in the social fabric will be;
-what the result will be of using certain renewable and non-renewable resources;
-how much the expected economic development will cost in terms of loss of resources sustainability;
-how to measure what is not easily measurable: enjoying a sunset, a stroll in a tropical forest, climbing a mountain, etc.; and
-how to integrate the technical and environmental aspects of projects with the desires, wishes and needs of the population.
TABLE OF CONTENTS
PART I : GENERAL BACKGROUND
CHAPTER 1 - GENERAL INFORMATION
1.1 The purpose of this book
1.2 Structure
1.3 Environmental Impact Assessment (EIA).
1.4 Environmental Impact Statement (EIS).
1.5 Strategic Environmental Assessment (SEA)
1.6 Environmental and Socioeconomic Impact Assessment (ESIA)
1.7 The necessity of developing an Environmental Impact Assessment (EIA) for most projects
1.8 What is economic development?.
1.9 What is sustainability?.
1.10 The link between economic development and sustainable environment
1.11 The carrying capacity of the environment
1.12 Social, economic and environmental interaction in sustainable development
1.13 The EIA problem.
1.14 The decision-making process
1.15 The EIA report.
Internet references for Chapter 1
CHAPTER 2 - PROJECTS AND IMPACTS.
2.1 Defining the objectives of the study
2.1.1 Projects, alternatives or options
2.1.2 Why are there alternatives to a single project?
2.1.3 Inventory of alternatives or options
2.1.4 Identification of criteria to compare alternatives
2.1.5 Projects' characteristics.
2.1.5.1 Selection of alternatives.
2.1.5.2 Public opinion
2.1.5.3 What are the problems for appraisal?
2.1.5.4 The baseline.
2.2 Impacts caused by projects
2.2.1 Impact definition
2.2.2 Effects caused by projects
2.2.2.1 Positive or adverse.
2.2.2.2 Primary, secondary, tertiary.
2.2.2.3 Measurable or indeterminate.
2.2.2.4 Apparent impacts.
2.2.2.5 Cumulative
2.2.2.6 Able to be mitigated or not in a greater or lesser degree
2.2.2.7 Residual impact
2.2.2.8 Spatially related
2.2.2.9 Temporal related
2.2.2.10 Irreversible or reversible
2.2.2.11 Likelihood of the impacts
2.2.2.12 Unexpected impacts.
2.2.2.13 Risk effects
2.2.2.14 Residual effects
2.2.2.15 Population impact
2.2.2.16 Interaction between impacts
2.3 Conclusion on impacts
Internet references for Chapter 2
CHAPTER 3 - CRITERIA
3.1 Criteria, Attributes or Components
3.1.1 Technical criteria
3.1.2 Environmental criteria
3.1.3 Safety criteria.
3.1.4 Social criteria.
3.1.5 Economic criteria.
3.1.6 Construction criteria
3.1.7 Spatial criteria
3.1.8 Temporal criteria
3.1.9 Diverse areas covered by criteria.
3.1.10 Criteria weight
3.1.11 Criteria thresholds
3.1.12 Threshold standards.
3.1.13 Criteria relationships
3.1.14 Assessment of significance
3.1.15 Criteria selection
3.2 Factor Analysis (FA)
3.3 Steps for Environmental Impact Assessment
3.3.1 Screening.
3.3.2 Scoping
3.3.3 Remediation.
3.3.4 Impact assessment
3.3.5 Impact mitigation.
3.3.6 Public participation
Internet references for Chapter 3
PART II: ELEMENTS OF ENVIRONMENTAL APPRAISAL.
CHAPTER 4 - INFORMATION FOR EIA.
4.1 Defining the problem.
4.2 Available tools for project appraisal
4.3 Tools for impact identification
4.3.1 Checklists.
4.3.1.1 Case study - Complex for energy generation and transmission
4.3.2 Network analysis
4.3.2.1 Case study - High speed train project
4.3.3 Leopold's matrix.
4.3.3.1 Case study - Construction of a water reservoir
4.3.4 Flow diagrams
4.3.5 Battelle environmental evaluation system
4.3.6 McHarg system - Overlays
4.3.7 The Delphi method
4.3.8 Dose-response functions.
4.3.9 Stepped or chained matrices
4.3.10 Comparison of techniques
Internet references for Chapter 4
CHAPTER 5 - TECHNIQUES FOR ENVIRONMENTAL APPRAISAL
5.1 Geographic Information System (GIS)
5.1.1 Fundamentals
5.1.2 Case study –- Road construction near archaeological ruins.
5.2 Contingent Valuation (CV)
5.2.1 Case study –- Visitors in an environmentally sensitive site.
5.3 Cost-Benefit Analysis (CBA)
5.3.1 Hedonic pricing
5.3.2 Case study – Sewage conversion in a tourist resort
5.4 Cost-Effectiveness Analysis (CEA)
5.4.1 Case study –- Selection of exhaust filtering equipment.
5.5 Input-Output analysis (IO)
5.5.1 Case study –- Contamination produced by the automobile manufacturing industry
5.6 Life Cycle Analysis (LCA)
5.6.1 Case study - Construction of a copper concentration plant
5.6.2 Case study –- Determination of contamination produced metallurgical mining process
5.7 Multicriteria Analysis (MCA)
5.7.1 Dollar value appraisal.
5.7.1.1 Case study –- Selection of different urban projects
5.7.2 Dollar value with monetary restrictions
5.7.3 Environmental damage appraisal
5.7.3.1 Case study - Selection of a chemical process to minimize environmental costs
5.8 Analytical Hierarchy Process (AHP).
5.8.1 Case study –- Selection of renewable energy sources
5.9 Mathematical Programming (MP).
5.9.1 Case study –- Construction of an oil pipeline
5.10 Actual examples of multicriteria analysis
Example 1: Selection of waste incinerators (several countries)
Example 2: Selection of a sewage system (Norway)
Example 3: Options to alleviate traffic congestion (The Netherlands)
Example 4: Construction of an overhead power line (South Africa)
Example 5: Routing for an oil pipeline
Example 6: Construction of an LPG pipeline (India).
Example 7: Ranking medium hydro-electric projects (Nepal)
Example 8: Policy for energy generation (Canada)
5.11 Risk Analysis (RA)
5.12 Techniques comparison
5.13 Strategic Environmental Assessment
5.13.1 Case study– Policy implementation for paper recycling
Internet references for Chapter 5
PART III: EIA IN THE URBAN SCENARIO
CHAPTER 6 - EIA AND URBANIZATION
6.1 People's participation.
6.2 EIA and the city.
6.2.1 Case study –- Selection of urban intersections
6.3 Urban and regional projects.
6.4 The execution of joint projects
6.5 Sustainable impact.
6.5.1 Case study –- Plan of new dwellings for low-income people
6.6 Indicators
6.7 Indicators selection
6.8 Measuring the quantity of information provided by indicators
6.8.1 Case study –- Selection of urban sustainable indicators
6.8.2 Case study –- Selection of urban indicators and projects
6.8.3 Case study –- Slum upgrading
6.9 Monitoring.
Internet references for Chapter 6
APPENDIX : MATHEMATICAL BACKGROUND TO UNDERSTAND
THE FUNDAMENTALS OF MODERN TECHNIQUES FOR
PROJECT APPRAISAL
A.1 Introduction
A.1.1 Regression analysis
A.1.1.1 Example –- Analysis of an urban transportation corridor
A.1.2 Correlation analysis
A.1.3 Matrices
A.1.4 Linking matrices and correlation
A.1.5 Linear transformation of a unit circle
A.1.6 Relationship between the ellipse and the correlation matrix
A.2 Mathematical foundation of the Analytical Hierarchy Process
A.2.1 Example –- Analysis of a project with three criteria
A.3 Foundation of Mathematical Programming.
A.3.1 Example –- Analysis of a project that calls for the construction of an oil pipeline, with four alternatives or options.
A.3.2 Graphic example
Project: Improvement of an urban highway
A. 4 Mathematical foundation of input/output analysis
A.4.1 Example - Railway industry
A.5 Statistical notions of Factor Analysis
A.6 The notion of opportunity cost
A.7 The notion of shadow prices.
A.8 The notion of sensitivity analysis
Internet references for Appendix
Cited references on the Internet by industries
ROAD MAP FOR ENVIRONMENTAL IMPACT ASSESSMENT
Flowchart and road map for Environmental Impact Assessment
GLOSSARY.
BIBLIOGRAPHY
INDEX
with TOC BookMarkLinks