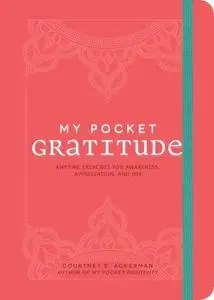 My Pocket Gratitude: Anytime Exercises for Awareness, Appreciation, and Joy (My Pocket) by Courtney E. Ackerman
English | November 5th, 2019 | ISBN: 1507211015 | 176 pages | EPUB | 2.31 MB
Practice being grateful everyday with these quick and inspiring exercises to express gratitude for yourself, others, and circumstances in your daily life.
Gratitude is a powerful tool that transforms any negative situation by adding a positive perspective and makes otherwise ordinary moments even better by reminding us to savor the experience. You can reap the benefits of gratitude, which include better sleep, less stress, and an overall enhanced sense of well-being just by shifting your attitude towards a more grateful mindset.
In My Pocket Gratitude you'll discover many easy ways to start living with more awareness, appreciation, and joy everyday with simple exercises to do on the go including:
• Thank yourself for thinking ahead
• Get your body a gift
• Express "old" gratitude to a loved one
• Make a list of reasons to be proud of past you
• Give someone a positive tour
• Catalogue your lessons learned
These 150 gratitude-infused activities help you cultivate positivity throughout your life and begin to develop habits that lead you to feel more fulfilled on a day-to-day basis. With this book in hand you can easily turn any negative experience into a positive one—and thank yourself in the process!
Enjoy
My Blog
. No any convert or low quality!