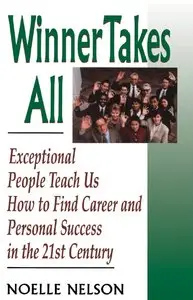 Noelle Nelson - Winner Takes All: The Eight Keys to Developing a Winner's Attitude
Da Capo Press | 2001 | ISBN: 0738204641 | Pages: 232 | PDF | 19.52 MB
"In turbulent times, we need inspiration and concrete role models to get us through. Noelle Nelson offers plenty of both." -Patricia Aburdene, co-author Megatrends 2000"Winner Takes All gives you steps to take to overcome your challenges and come out on top in this rapidly changing world." -J. Oliver Crom, President and CEO, Dale Carnegie & Associates, Inc.Everyone knows what a winner is, but not everyone knows how to be one. An inspirational and practical guide to overcoming life's setbacks and achieving dearly-held dreams, Winner Takes All describes "winners" from all walks of life: from the founder of Mothers Against Drunk Driving to celebrities like Christopher Reeve and Muhammad Ali. Noelle Nelson provides the tools and hard-earned wisdom to bring personal success and happiness to those willing to make it happen.
Thanks to original uploader!

Do you know only a small part of all books is visible on the AvaxHome Homepage (@ Home)?
To see all of them use
eBooks
category.
If you enjoy my books look at my
…::No mirrors, please::…