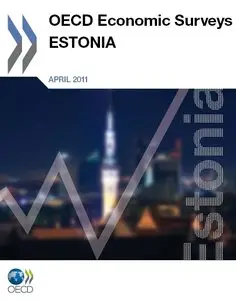 OECD Economic Surveys: Estonia 2011
OECD | 2011 | ISBN: 9264096957 9789264096950 9789264092488 | 143 pages | PDF | 3 MB
The 2011 edition of OECD's periodic economic survey of Estonia's economy. This edition includes chapters covering emerging from the recessions, fiscal policy, public sector spending efficiency, and making the most of globalisation.
It finds that Estonia continues to show a remarkable determination in policy making.
It has established business-friendly regulation, avoided fiscal deterioration during the crisis and made it into the euro area despite being hit by an accumulation of external shocks. Nevertheless, it has not fully reaped the benefits of globalisation.
Table of contents
Executive summary
Assessment and recommendations
Chapter 1. Emerging from the recession
The boom-bust cycle has left Estonia with serious challenges
Dealing with the consequences of the boom-bust cycle
Notes
Bibliography
Annex 1.A1. Characteristics of the unemployed in Estonia
Annex 1.A2. Prospects for labour market recovery in Estonia
Annex 1.A3. Progress in structural reform
Chapter 2. Fiscal policy: Avoiding pro-cyclicality and safeguarding sustainability
Regaining fiscal sustainability after the crisis
Improving the fiscal framework
Enhancing tax system to support fiscal consolidation and economic growth
Notes
Bibliography
Annex 2.A1. Fiscal consolidation measures adopted during 2008-10
Chapter 3. Public sector spending efficiency: Healthcare and local government
Healthcare is particularly susceptible to spending acceleration
Fragmented local government in need of reform
Notes
Bibliography
Chapter 4. Estonia: Making the most of globalisation
Characteristics and dynamics of Estonian convergence
Framework policies for reaping more benefits of globalisation
Notes
Bibliography
Glossary
with TOC BookMarkLinks