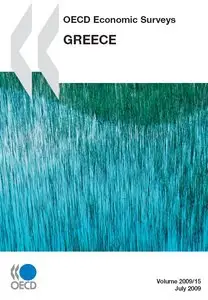 OECD Economic Surveys: Greece 2009
OECD | July 2009 | ISBN: 9264054278 9789264054271 9789264054509 | 156 pages | PDF | 2 MB
OECD's periodic review of Greece's economy. This 2009 edition examines how well Greece is weathering the economic crisis. It also looks at how to bring Greece's public finances on to a sustainable path, how to improve the performance of the public health care system, and how to raise education outcomes.
Greece has weathered the economic crisis relatively well, but putting public financing on a sustainable path will require strengthening tax administration and tighter expenditure management. Greek health outcomes compare favourably with the OECD average but the system is seen as not working well by the population. Greece's educational indicators lag behind those of other OECD countries and OECD makes wide-ranging recommendations in this report.
Table of contents
Executive Summary
Assessment and recommendations
Chapter 1. Weathering the international crisis
Although weakened, the Greek economy has stood up quite well to the initial impact of the crisis
Greece is, however, unlikely to avoid a recession
How should fiscal policy react?
Is the Greek financial sector well armed to face the economic and financial crisis?
The authorities should give priority to reforming the public sector
Structural reforms on labour and goods markets must be pursued
Notes
Bibliography
Annex 1.A1. Progress in structural reform
Chapter 2. Enhancing fiscal viability
Enhance revenue performance with a special focus on tax evasion
Achieving better control of primary expenditure
The projected surge in pension spending threatens the stability of public finances
Notes
Bibliography
Chapter 3. Improving the performance of the public health care system
Performance and main challenges
The organisation of the health care system impairs its efficiency
The quality and efficiency of public health care services need to be improved
Conclusions and recommendations
Notes
Bibliography
Annex 3.A1. Data envelopment analysis
Annex 3.A2. A new mechanism for monitoring prescriptions for drugs
Chapter 4. Raising Education Outcomes
An overview of the education system
Education outcomes
How to improve the performance of the education system?
Notes
Bibliography
with TOC BookMarkLinks
Available in French -
Études économiques de l'OCDE : Grèce 2009