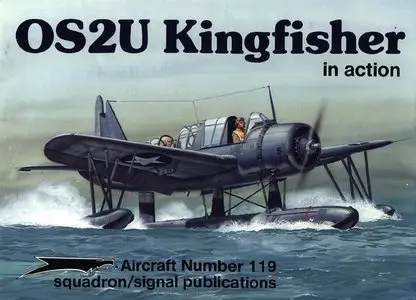 OS2U Kingfisher in Action (Aircraft in Action 119) By Al Adcock
Publisher:Squadron/Signal Publications Inc.,U.S. 1991 | 50 Pages | ISBN: 0897472705 | PDF | 15 MB
Before the advent of radar, the scout/observation aircraft served as the eyes of the fleet. Scouting hundreds of miles either from a shore base or from a ship these aircraft were used to observe submarine and/or surface ship movements, act as gunfire spotters for surface ships, and act as air-sea rescue platforms. The Chance Vought Aircraft Company came into existence during 1917, producing trainer aircraft for the U.S. Army. Later the Lewis and Vought VE-7 series of aircraft was procured by the Navy. The VE-7 series developed into the VE-9 with one model, the VE-9H, being produced as a single float observation aircraft (four were built for the Navy). During the 1920s Vought brought out the UO-1, a variant of the VE-9. The aircraft was powered by a 220 hp Wright J-5 engine and a total of 141 UO- ls were built.These became the first service aircraft to operate from the deck of an aircraft carrier and were also the first aircraft to operate from a battleship catapult. The UO-1 was followed by the Vought 02U-1, the first in a long line of Corsair biplanes. Vought continued to produce the Cor­sair biplane series, up to the 03U-6 introduced during 1935. The 03U-6 would be the last biplane produced by Vought for the Navy.
NO PASSWORD


!!!No Mirrors below, please! Follow Rules!