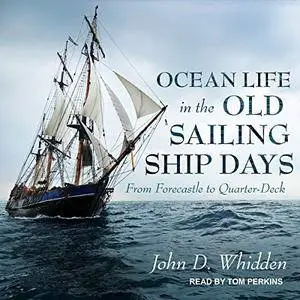 Ocean Life in the Old Sailing Ship Days: From Forecastle to Quarter-Deck [Audiobook] by John D. Whidden
English | June 19th, 2018 | ASIN: B07DKXYRHM | MP3@64 kbps | 9 hrs 34 mins | 263.38 MB
Narrator: Tom Perkins
Orphaned at five, nothing held Whidden back from embarking on sea life seven years later. Serving as an apprentice, he quickly proved his worth and earned himself a mate's position by his early 20s. Graduating to third, second, and first office, he ended his career in command of, and having part-ownership of, his own vessel.
This memoir, Ocean Life in the Old Sailing Ship Days, records a series of real events from his childhood impressions of rough and ready seamen to his thrilling and brutal experiences of war. His travels saw him spanning the world with stops at major ports such as Honolulu, Buenos Aires, Calcutta, and Liverpool. His life spans the changes in the shipping industry over the 19th and into the 20th century.
During the Civil War, Whidden was heavily involved in profitable island trading in the Bahamas to elude Confederate sailors. However, shortly after the close of the war, in 1870, Whidden left sailing as he found it being overtaken by foreign interests.