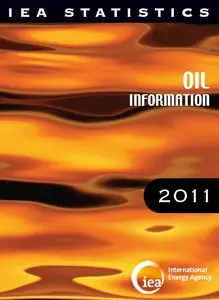 Oil Information 2011
IEA Statistics
OECD / IEA | Aug 2011 | ISBN: 9789264104723 9789264104730 | 746 pages | PDF | 8 MB
A comprehensive reference book on current developments in oil supply and demand. Trade data are reported extensively by origin and destination.
The first part of this publication contains key data on world production, trade, prices and consumption of major oil product groups, with time series back to the early 1970s.
The second part gives a more detailed and comprehensive picture of oil supply, demand, trade, production and consumption by end-user for each OECD country individually and for the OECD regions.
TABLE OF CONTENTS
PART I: SOURCES AND DEFINITIONS
1. Introduction
2. Recent data revisions
3. General definitions
4. Sources and notes
5. Country notes
6. Geographical coverage
7. Abbreviations and conversion factors
PART II: WORLD OIL DEVELOPMENTS
OECD energy consumption, oil demand and economic indicators
OECD CO2 emissions
World oil demand by country.
World demand by main product groups
World demand by main product groups (kb/d)
OECD consumption of fuel oil according to sulphur content
OECD use of biogasoline/biodiesel
World crude oil and NGL production
World refinery output
World trade of crude and products
IEA Crude import costs and oil products prices
Graphs
PART III: DETAILED OECD OIL DATA
OECD Total
OECD Americas
OECD Asia Oceania
OECD Europe
IEA Total
Australia
Austria
Belgium
Canada
Chile
Czech Republic
Denmark
Estonia
Finland
France
Germany
Greece
Hungary
Iceland
Ireland
Israel
Italy
Japan
Korea
Luxembourg
Mexico
Netherlands
New Zealand
Norway
Poland
Portugal
Slovak Republic
Slovenia
Spain
Sweden
Switzerland
Turkey
United Kingdom
United States
PART IV: OECD HISTORICAL SERIES
Production
Net imports
Refinery input
Gross refinery output
Gross consumption by product
Transformation
Energy industry own use
Final consumption
Transport
Industry
Other
with TOC BookMarkLinks