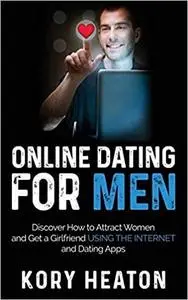 Online Dating for Men: Discover How to Attract Women and Get a Girlfriend Using the Internet and Dating Apps by Kory Heaton
English | March 31, 2020 | ISBN: N/A | ASIN: 9781952559204 | 134 pages | Rar (PDF, AZW3) | 1.49 Mb
You Are One Step Away from Learning How to Navigate the Murky Waters of Online Dating as A Man to Get the Girlfriend of Your Dreams!
What should I include in my dating profile?
Should I include what I do for a living?
Is that divulging too much or is that even boring?
What do women want to see on my profile?
After finding a match, then what next?
How do I start a conversation?
Are these some of the questions going through your head?
Do you feel like you would like to try your hand at online dating but are not quite sure how to go about it?
If so, then you are definitely in the right place.
Dating, whether online or offline, can be nerve-wracking at times.
Sometimes you are not sure if someone likes you, whether you should approach them or not, what to say, etc.
Now, when you consider online dating, you are in a whole new territory, and to be successful at online dating you need to get some things right.
You must create a profile that will attract the woman you desire, know how best to start a conversation with someone you like, and know how to set up a date.
How do you do all that properly when there are hundreds if not thousands of other men out there trying to get the attention of all those women on various online dating apps and websites?
Luckily for you, this book will provide a step-by-step guide on how to do all the above, and much more.
Here is just a tiny fraction of what you will learn:
How online dating works
How to choose the best online dating apps and websites
How to avoid the most common mistakes men make when creating their profiles
Essential tips for creating an irresistible online presence
Tips to enable you to master the art of sending first messages guaranteed to garner a response
How to flirt and build attraction without getting blocked or labeled a freak
How to avoid being misunderstood
What you need to know before going for your first date
How to boost your online dating confidence
How to spot online dating scams and red flags
How to overcome any language barriers you may come across in online dating
And much more!
I know sometimes online dating may feel a little scary because you are putting yourself out there among a world of people you don't know.
However, with the information in this book, you will know how to go about getting your dream partner safely and effectively.
Feel Free to contact me for book requests, informations or feedbacks.
Without You And Your Support We Can't Continue
Thanks For Buying Premium From My Links For Support