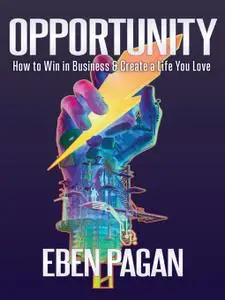 Opportunity: How to Win in Business and Create a Life You Love by Eben Pagan
English | January 8th, 2019 | ISBN: 1401957099, 1401957099 | 273 pages | EPUB | 3.09 MB
Make the most of life's opportunities with savvy internet marketer Eben Pagan's ode to opportunity: how to recognize it, how to find more of it, and how to make it work for you.
Well-known entrepreneur teacher and technology investor Eben Pagan has spent thousands of hours studying opportunity. After interviewing hundreds of successful entrepreneurs, self-made millionaires, and billionaires, Eben found that successful people have something in common: they are better at finding and creating opportunity, and they're better at choosing which opportunities to bet on. This book shows you how they do it, giving you the tools to find and create a lot more opportunity in your work, in your business, with money, and in your life.
In today's world, we have more options than ever to travel to new places, meet new people, start new businesses, and make new investments. But with this increase comes "opportunity shock" and the confusion that comes from having too many options.
Inside this book, you'll learn:
• What opportunity is, how it works, and where to find it
• How entrepreneurs and investors are turning big change into big opportunity
• How to discover and develop more great opportunities in business, money, investing, health, happiness, relationships, and personal development
• How to overcome fear of failure so you can have more of what you want in your life
• How to become an innovator and thought leader, helping others find their own opportunities