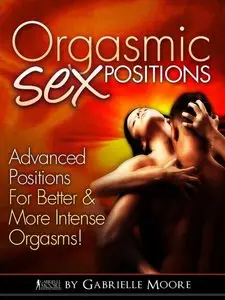 Orgasmic Sex Positions
Audio CDs in MP3 / English: MP3, 128 kb/s (1 ch) | Duration: 03:17:26 | ISBN-10: N/A | + PDF Guide | 184 MB
Genre: Dating, Relationships, Sex
Maybe you're already having pretty satisfying sex right now. Maybe your sex life is cruising along just fine… and you don't see the need to change anything.
But hey, even I get bored with sex sometimes… and I'm supposed to be a world-famous sexpert!
You get the idea – A little bit of fuel thrown into your sex life won't hurt things… in fact, they can greatly increase both your sexual pleasure!
Are These Lies Stopping You From Having Incredible Sex?
LIE #1: If my partner does not have an orgasm, I'm a terrible lover!
TRUTH: Orgasms aren't something you can just "give" to another person. If your partner has a difficult time reaching that climax, the sex positions you use may not be stimulating her enough!
LIE #2: If she can't orgasm with me inside her, something must be wrong with her.
TRUTH: Each woman's body is different. Women need more than just vaginal insertion to reach orgasm. Most need added clitoral stimulation which ordinary sex positions cannot provide enough of.
LIE #3: If my lover can't orgasm, I can do nothing about it. She's wired this way.
TRUTH: There are many things YOU can do to provide increased stimulation to help her come! The easiest way is to use one of my orgasmic sex positions!
Think of it as a modern, fully-illustrated Kama sutra for the 21st century. This is the complete graphical playbook both you and your lover can refer to… over and over again… each time you make love!
Each one of the positions featured in "Orgasmic Sex Positions" has been 100% pleasure tested to provide:
Deep, intense stimulation! – Ooooh ahhh… PLEASE DON'T STOP! These positions provide way more stimulation than your ordinary, everyday sex positions you have been taught to use. Put simply, they're deeply orgasmic!
Intimate love-making – Each position allows your bodies to come into close, intimate physical contact with one another… allowing you to savor the intimacy that blissful sex provides!
Hours of endless, love-making fun! – You'll LOVE the naughty "Climax Cues" I include with every sex position to help you get even more out of sex… such as what you can do with your hands, how to tease her with your tongue while you're inside of her, and what to whisper into her ears at the exact right moment!
Welcome to the best eLearning video (English, German, French, Spanish language) and many more:
LINK
Do not forget to check my blog! Updated regularly!
No mirrors pls!