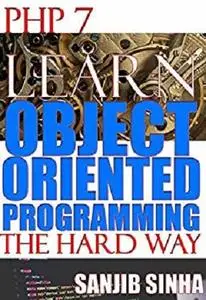 PHP 7: Learn Object Oriented Programming, The Hard Way: With an Introduction to a Dynamic Web Application and New Features of PHP 7 by Sanjib Sinha
English | April 12, 2018 | ASIN: B07C5FNJDM | 222 pages | AZW3 | 0.32 MB
"I further believe that object technology holds the potential for fundamental changes in the software industry and that it is here to stay."
Bertrand Meyer wrote, in the preface of his famous book, "Object-Oriented Software Construction".
The best part of the good news is PHP 7, a general-purpose scripting language, well suited for web applications, has now all the core combination of Object-oriented-programming. Now it moves in a direction that would help PHP stay in the competition in the future.
In this book, the core combination of Object Oriented Programming (OOP) has been explained in great detail. Mainly the four ideas govern the OOP principle – a structuring method, reliability discipline, an epistemological principle and a classification technique.
These ideas have been stated step by step so that one could learn them and use them in the web applications.
The structuring method shows us how you can decompose and reuse your code in PHP 7.
The reliability discipline helps us take the radical approach to the problems of building software. Now we can solve those problems by adhering to contracts or interfaces. The epistemological principle addresses the core question of how we define the classes and what we can do with those classes. This formally expresses the idea of Abstraction, Encapsulation and Information Hiding principles.
Finally, we come to know about the classification technique or discipline that relies heavily on inheritance.
This book teaches you how we can define classes. We learn how programs manipulate those classes and the corresponding objects? How can we maintain a relationship between classes so that they can exchange messages? How can these ideas be applied in reality so that they relate to the key software engineering concerns as extendibility and efficiency?
Answers to these questions are here.
It's described in a lucid way so that the "learning OOP the hard way" becomes easy.
This book provides you the tools that are straightaway practical to a wide range of problems in web applications.