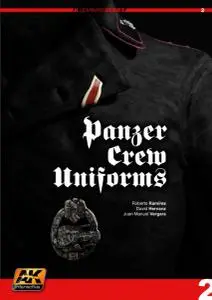 Panzer Crew Black Uniforms Painting Guide (AK Learning Series 2) by Roberto Ramirez, David Hernanz, Juan Manuel Vergara
AK Interactive | 2014 | English | ASIN: B00L5JCU1M | True PDF | 86 pages | 29 MB
The extremely talented artists within this book take you on a journey through every aspect of figure painting through their very own words guiding you through their styles and approaches. Follow along as they teach you the methods and skills they've developed over time by explaining the how and why of highlighting and shadows, the affect they have on our scale figures and perhaps more importantly, the manipulation of the colors used and the tricks to getting the most out of them in scale figure painting.
Read along with each author as he teaches you how to create a feeling of unity by establishing passages of light and shade over complex patterned clothing by connecting the elements through color. Follow each artist in depth tutorial as they share their knowledge in a book explainingthe aspects of figure painting from solid colored uniforms, to very complex patternedcamouflage and even skin tones and hair. The artist's own approach and signature style is found within the text of each article, providing subjective experience and objective know-how as a result of years of practice and experience. The results found within are absolutely striking.
These pages are so profusely illustrated with 'in progress' photos and descriptive text explaining figure painting, fromthe very start to the most sublime of finishes. Instructional drawings, color plates and page after page of in depth works-in-progress articles that are written by artists who excel in thesemediums, this truly is a big book.