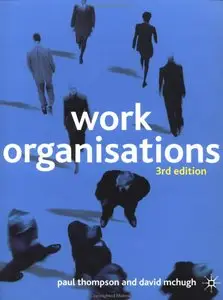 Paul B. Thompson, David McHugh - Work Organisations: Critical Introduction 3rd Edition
Palgrave Macmillan | 2003 | ISBN: 0333949919 | Pages: 480 | PDF | 1.73 MB
This third edition, designed in a user friendly format, substantially revises and extends old favorites including whole chapters on gender and international management issues for the first time. Current debates on surveillance, managing diversity, knowledge work, high performance work systems, and learning in organizations are discussed, and new chapters on change and teamwork have been added.
Thanks to original uploader!

Do you know only a small part of all books is visible on the AvaxHome Homepage (@ Home)?
To see all of them use
eBooks
category.
If you enjoy my books look at my
…::No mirrors, please::…