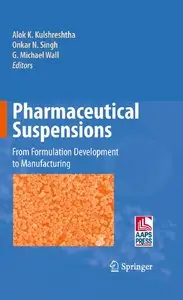 Pharmaceutical Suspensions
Publisher: Springer | ISBN-10: 1441910867 | English | 337 Pages | PDF | 5.7 MB
The suspension dosage form has long been used for poorly soluble active ingredients for various therapeutic indications. Development of stable dispersions over the shelf life of the drug product continues to be a challenge on many fronts. A good understanding of fundamentals of disperse systems is essential in the development of a suitable pharmaceutical suspension. The development of suspension dosage form follows a very complicated path.