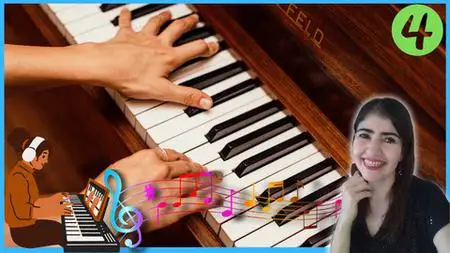 Piano Technique Exercises Vol.4
Last updated 1/2023
MP4 | Video: h264, 1280x720 | Audio: AAC, 44.1 KHz
Language: English | Size: 1.88 GB | Duration: 1h 36m
Master rhythmic figures and immprove your playing.
What you'll learn
Students will be able to play and recognize these rhythmical figures with more sound control and accurracy.
You will learn how to use rhythmical solfeggio when you practice these exercises.
You will add more variations to your scale practice in order to master rhythm.
You will learn by watching and listening 100% practical videos.
Requirements
Having a good internet connection is necessary in order to watch the videos.
Basic knowledge of rhythmical figures is recommendable
Having a piano, keyboard or MIDI controller is necessary to practice the exercises of this course.
Basic Piano knowledge as the notes and C major scale is important to be able to follow the instructor recommendations.
Description
Do you want to stop struggling with rhythmic figures when you play piano? Are you tired of playing inaccurate rhythmic figures when you play your  piano repertoire? ************* This course for you! **************** This course of piano technique exercises Vol.4 is specially designed for you to learn to play different rhythmic figures incorporating them to the practice of C major scale . This course is not focused on learning to play C Major scale, but using this scales as a tool to learn to play rhythmical figures.  This course contains: 100% practical videos where it shows how to work each figure. Tips to be able to play efficiently and incorporate it into the daily technique routine. Incorporation of rhythmical solfeggio to master the figures worked. Explanation of each figure for greater understanding. Register in this course and make that leap to a greater mastery of rhythmic figures such as: Whole notes, half notes, quarter notes, eight notes, sixteenth notes.  Triplets and its subdivisions.  Syncopation. Combination of eighth notes and sixteenth notes, dotted notes. This course has more than 460 students already enrolled, it has been rated with an average of 4.5 stars from 5 possible in Udemy.  If you have any questions you can send a message and gladly receive advice to know if this course is for you.Enroll in this course today and improve your technique!!
Who this course is for:
Any piano student that wants to improve and master rhythmical figures at the piano.,If you play piano but keep struggling with rhythmical accuracy when you play your piano repertoire, this course will help you.,If you want to improve your piano technique this course will give you more tools to add to your daily practice.