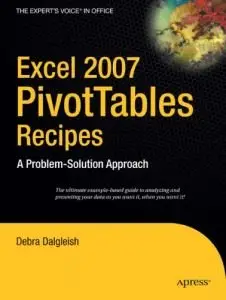 Debra Dalgleish, "Excel 2007 PivotTables Recipes: A Problem-Solution Approach"
Apress | 2007-12-10 | ISBN:1590599209 | 272 pages | PDF | 2,9 MB
Debra Dalgleish, Microsoft Office Excel MVP since 2001, and an expert and trainer in Excel, brings together a one-stop resource for anyone curious about representing, analyzing, and using their data with PivotTables and PivotCharts. You'll find this book inimitable when facing any new or difficult problem in PivotTables, covering the entire breadth of situations you could ever encounter, from planning and creating, to formatting and extracting data, to maximizing performance and troubleshooting.
The author presents tips and techniques in this collection of recipes that can't be found in Excel's Help section, while carefully explaining the most confusing features of PivotTables to help you realize their powerful potential.
The chapters in this book have been organized into a collection of recipes to take you step by step from the problem you are experiencing to the solution you are aiming for. Without fuss, you'll find clear and precise information to help you assess your situation, whether common or unique, and solve your problem. Working examples of complex PivotTables and numerous PivotTable programming examples will help you solve problems quickly, without the need to digest heavy content.
What you'll learn
How to create and format PivotTables to be as attractive as they are useful
How to reuse prepackaged "recipe" code to put PivotTables to work in a variety of data-driven scenarios
How to determine why results of your computations and charting might not match what you expect and how to understand and fix those problems
Related programming techniques using working examples of advanced PivotTables
Who is this book for?
This book is a must-have resource for anyone who uses Excel frequently.
Related Titles
Beginning PivotTables in Excel 2007: From Novice to Professional
Excel 2007: Beyond the Manual
Only

ONE (1)

RS mirror, please