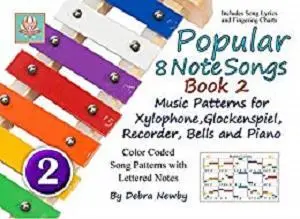 Popular 8 Note Songs Book 2: Music Patterns for Xylophone, Glockenspiel, Recorder, Bells and Piano by Debra Newby
English | January 14, 2019 | ASIN: B07MQXBH75 | 46 pages | PDF | 2.07 MB
Includes Fingering Charts for the Recorder and Piano, a Harmonic Note Chart and Free Online Audio Tracks of all the songs!A Musical Adventure!
To begin a new adventure, an explorer needs a map. Many individuals would like to start a musical journey, but the inability to read musical notation holds them back. This Music Pattern Song Book was created to give those brave souls a place to begin.
It's Easy!
All one needs to do is match the color blocks or letters in these musical song patterns to an instrument, and beautiful music can be made. This book works well with xylophones, glockenspiels, recorders, hand bells, piano, harmonicas and more! Any instrument that can play an eight-note C to C scale can be used with this book. Fingering Charts for the recorder and piano are included.
All of this book's song patterns are color-coded AND letter-coded, so as long as you know the fingering for the notes of your instrument, you can play along.
In these song patterns, it is illuminating to see a visual representation of the sounds that you hear. Each song has structure and repeating patterns, but each one is unique. If you are a student of music theory, these colored patterns may give you a new perspective on the way music is put together.
A Place to Begin!
Many parents and classroom teachers feel unequipped to teach the next generation about music because they had little opportunity to learn themselves. Sometimes, older adults who missed the chance to play an instrument when they were younger are determined to begin. Music therapists are often looking for tools to bring music to their patients. Children delight in banging the keys of a percussion instrument but need some help to know what to do next.
Yet, where does one who has not yet learned to read musical notation begin?
Most people can match colors or letters, which makes color and letter coded music song patterns a good place to start.
In this book, the songs progress from easy children's tunes to more complicated pieces and duets.
Duets are included so that groups can make music together!
Benefits!
It is well documented that learning to play a musical instrument stimulates multiple areas of the brain. It also enhances eye-hand coordination and balance. It can increase math ability and improve reading and comprehension skills as well as listening ability. Playing together in a group boosts leadership and team work skills and teaches discipline. Music fosters self-expression, creates a sense of achievement, relieves stress, and promotes happiness.
For Musicians of All Ages!
Starting a new activity, no matter what your age, takes courage, resources and support. These song patterns are provided to make it a little easier to take that first musical step!
Contents:
Greetings; Many Instruments to Play; Beat, Rhythm, Tone; Music Notes and Rhythms; Rounds and Duets; Taking It Step by Step; Artistry
The Songs:
Old MacDonald's Farm; The Muffin Man; This Old Man; Barnyard Song; Are You Sleeping? – A Round; Three Blind Mice – A Round; Kookaburra – A Round; Camptown Races; Liza Jane; Swanee River; Long, Long Ago; Long, Long Ago Harmony; Beethoven's Sonatina; Beethoven's Sonatina Harmony; Home Sweet Home; Mulberry Bush; Brahms's Lullaby; Sweet Betsy from Pike; My Bonnie; Swallowtail Jig; Irish Washerwoman; Enduring Young Charms; Bach Minuet; Bach Minuet Harmony
Song Lyrics; The Importance of Music; Xylophone Intro Lesson; Recorder Intro Lesson; Piano Intro Lesson; Handbells Intro Lesson; Harmonica Intro Lesson with Harmonica Note Chart; Recorder Fingering Chart; Piano Fingering Chart