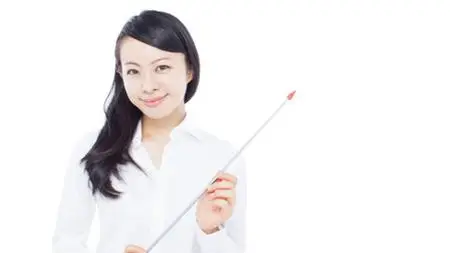 Presentation Tactics For Students, Lecturers And Educators.
Published 6/2022
MP4 | Video: h264, 1280x720 | Audio: AAC, 44.1 KHz
Language: English | Size: 6.69 GB | Duration: 5h 51m
Deliver Powerful Talks That Increase Your Score and Professional Reputation
What you'll learn
Key components of successful presentations
Organise content in a clear and intelligent manner for the audience.
Apply visual design strategies to make supporting content look fantastic
Use effective phrases in English for presentations
Requirements
Intermediate English or above
Description
As a student studying at a university, there is a very good chance that your assignments consist of preparing and delivering a presentation.If you are a university lecturer you need to talk at conferences and persuade your audience at meetings.As an educator, you need to make presentations for your students, both in class and online.Skillful presentations can help students achieve high grades. They can help lecturers grow their authority and a great presentation enhances your teacher status.The problem is, people are bored of slide presentations. Like advertisements, we have grown tired of them and ignore them because there are so many. As a result, we are faced with some challenges:How can we get noticed in the sea of presentation slides?Do I have the confidence to deliver a world class presentation in English?These challenges show that presentation skills are vital to your job and your studies: assignments, conferences, classes - they all demand masterful presentations.This course is designed to help you. It is designed for students, lecturers and educators whose first language is not English.By the end of this course, you will have a much stronger ability to:Increase your score in assignments.Deliver powerful talks at conferences and meetings.Go to the next level of teaching performance with your students.I am delighted to invite you to join this course on Presentation Tactics for Students, Lecturers And Educators. This course gives you A Framework for Outstanding Presentations that help you to become The Most Interesting Person In The Room. It is based on a four stage system that leads to results. Let me explain this.This course has four sections. There are several lessons in each section:Key Components.This section looks at the essential ingredients required for a successful presentation. There are lessons on how to start and end a presentation, how to make the audience see the benefit of listening to the talk, how to speak confidently and passionately. This section also looks at the process of creating a presentation, ranging from the early stages of brainstorming and planning ideas, through to organizing content and practicing at least two times before delivering your talk to an audience.Organisation.This section considers the importance of organizing your content in a clear way that is easy to follow. The lessons look at different organisation frameworks that you can apply to your content.Looking Good.The fact is that appearances matter! It is no longer possible to present using slides that are text heavy and loaded with bullet points. In this section we cover some really effective tactics that you can use to make your slides look much better. The great thing is that these tactics are also really fun and satisfying to use!Language Needed.Once you have your content planned, organised and looking good, it is time to deliver your talk. At this stage it becomes important to consider some of the important language needed for presentations. This section focuses on the use of phrases that can be used for this purpose. This section has been designed for people whose first English is not English.Also Included.Each lesson includes PDF files of the slide content used.There is a quiz at the end of each section to help you consolidate your knowledge.Some lessons also contain in-lesson practice activities, with keys - just follow the instructions in the videos to complete them.By the end of this course you will have the skills and strategies to deliver clear, well thought out presentations that people actually connect with.As a result, you will be more able to increase your grade, make an impact at a conference, or raise your profile as a respected educator.Register for this course now and find out how to make an impact that most do not achieve.Now I accept that you probably have some experience of giving presentations. In fact you might have a lot of experience, but this is such a crucial skill to get right. Most presentations go unnoticed and result in average grades and little recognition. Don't let this happen to you. Register now and start making high quality presentations that you will be proud of.
Overview
Section 1: Course Overview
Lecture 1 Course Overview
Lecture 2 Presentation Tactics for Students, Lecturers and Educators: A Quick Look
Section 2: Essential Components Of A Presentation.
Lecture 3 Presentation Steps
Lecture 4 You vs. The Audience
Lecture 5 Research The Audience
Lecture 6 The Big Idea
Lecture 7 Starting and Ending Your Talk
Lecture 8 Speak With Passion
Lecture 9 How To Practice Your Talk
Lecture 10 Call To Action (C.T.A.)
Section 3: ORGANIZATION
Lecture 11 Introduction to Organising Content
Lecture 12 The Concept of Story in Presentations
Lecture 13 The Components of A Story
Lecture 14 The Numbered List
Lecture 15 Breadcrumbs
Lecture 16 The Three Point System
Lecture 17 Chronology
Lecture 18 Arranging Contrasts - Advantages / Disadvantages; similarities/ differences; pro
Lecture 19 The Organisation of Content Shown in Diagrams and Infographics
Section 4: Looking Good
Lecture 20 Using Visual Elements in Slides
Lecture 21 How To Improve The Appearance of Your Slides
Lecture 22 Visual Tactics for Using Graphs and Diagrams
Lecture 23 A Demonstration of Using Pre-Prepared Graphs
Section 5: Language Needed
Lecture 24 Making Comparisons: Overview
Lecture 25 Regular Comparisons
Lecture 26 Comparisons Using 'as + not as'
Lecture 27 Using Verbs to Indicate a Difference
Lecture 28 How to Use 'While' to Make a Comparison
Lecture 29 Signalling Phrases
Lecture 30 Describing Reason - Result Relationships
Lecture 31 Describing Cause - Effect Relationships
Lecture 32 Identifying Parts of a Diagram
Lecture 33 Making a Tentative Conclusion
Section 6: Conclusion
Lecture 34 Concluding Comments.
Students aged 17+; Lecturers, Educators