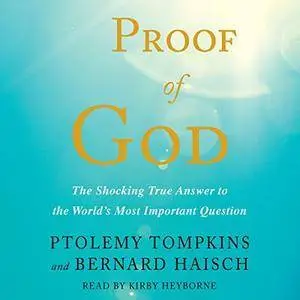 Proof of God: The Shocking True Answer to the World's Most Important Question [Audiobook] by Bernard Haisch, Ptolemy Tompkins
English | September 26th, 2017 | ASIN: B074PW8H9J | MP3@64 kbps | 5 hrs 51 mins | 161.53 MB
Narrator: Kirby Heyborne
Ptolemy Tompkins, collaborator on the New York Times best-selling Proof of Heaven and Proof of Angels, has teamed up with renowned astrophysicist Bernard Haisch to prove God's existence and show that his work is evident in the world around us.
Is there a God? If so, does God care about us? Or is human life a mere accident of physics?
For centuries these fundamental questions have been integral to every culture and religion the world has known - and have not been answered, save by faith. When it comes to finding answers about how the universe came into existence, "God" is simply another theory. A theory that, many say, is no longer needed.
In Proof of God, writer Ptolemy Tompkins (Publishers Weekly calls his writing "inspired") has joined forces with internationally acclaimed astrophysicist Bernard Haisch to demonstrate that not only is God real but that it is science itself that proves it. Structured in seven compelling chapters examining core features of our universe (gravity, mass, energy), Proof of God blows up the misconceptions put forth by recent "anti-religion" best sellers. Written in simple, easy to understand language, it shows believers that, far from being an enemy of their faith, science is, if anything, its greatest justification. Above all, it is a deeply personal narrative about a scientist's journey to understanding how God's fingerprints are all over our universe.
In Proof of God, a committed seeker and a spiritual scientist come together to present a view of creation that makes it not only possible but essential to accept both science and God as true.