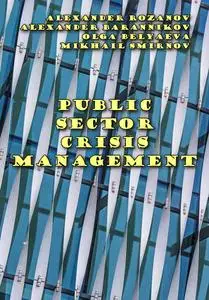 "Public Sector Crisis Management" ed. by Alexander Rozanov, Alexander Barannikov, Olga Belyaeva, Mikhail Smirnov
ITExLi | 2020 | ISBN: 1838809821 9781838809829 1838809813 9781838809812 183880983X 9781838809836 | 150 pages | PDF | 7 MB
This volume is dedicated to the criterion for the success of a manager in emergency crisis management, effectiveness as an absolute measure of the presence or absence of a result—it either exists or does not exist.
The term "crisis management" was applied to business only after the publication of the monograph "Crisis Management: Planning for the Inevitable" by Steven Fink in 1986. Since then, this term has turned from a journalistic cliche into a scientific concept, and its concept, theory, and methodology have been further developed.It is the turning point in the meaning of the word "crisis" that indicates the possibility of changing the situation by making decisions that contribute to changing the vector of development of events from destruction to recovery and further development. From the above, the general definition of the term "crisis management" follows as a process of saving the system from its destructive effects. The activity of the crisis manager is always temporary and stops as a result of a favorable overcoming of the crisis or vice versa—the destruction of the system.
Contents
1. Crisis Management and Communication Strategies: RUSAL's Case
2. The Political Economy of Crisis Recovery
3. Contagion, Exchange Rate, and Financial Volatility: Indonesian Case in Global Financial Turbulence
4. State Capitalism in Belarus: Behind Economic Anemia
5. Crisis Management and the Public Sector: Key Trends and Perspectives
6. Applying Monte Carlo Simulation in New Tech
7. Management of Tourism Crisis in the Middle East
8. Exploring the Three-Way Destination Safety Solution to Crisis Management in Tourist Destinations in Rural Nigeria
9. Crisis Management in Nigeria's Public Sector and the Impact of the Organised Labour Union: Interrogating the Nexus between Industrial Harmony and Political Stability
10. The Police Development and Protection of Soft Targets
1st true PDF with TOC BookMarkLinks