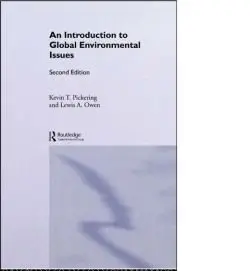 Lewis A. Owen, "An Introduction to Global Environmental Issues"
Publisher: Routledge | 1997-08-28 | ISBN 0415140986 | PDF | 512 pages | 12.81 MB
An Introduction to Global Environmental Issues is an essential introduction to the current state of scientific knowledge of environmental systems and processes. As theories and research on the global environment become increasingly sophisticated, the causes, effects and most notably the solutions to environmental problems are being studied in an increasingly interdisciplinary manner. This book integrates the cultural, economic and political dimensions of the discussion, offering contemporary case studies drawn from all over the world, and presents cutting-edge research on specific problems.
This revised and updated Second Edition features coverage of global atmospheric change, acid rain, natural hazards, and the human impact on the earth's surface. Superb figures and color photographs augment the presentation, and a full glossary and synopses of seminal events and publications have been added.