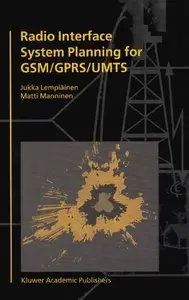 Jukka Lempiäinen, Matti Manninen, "Radio Interface System Planning for GSM/GPRS/UMTS "
Springer | 2007 | ISBN: 0792375165 | 292 pages | PDF | 8,1 MB
Radio network system planning is a comprehensive optimisation task where different planning targets - coverage, capacity and quality- have a direct influence on each other and where optimised solution is a compromise of these planning areas. In order to find out the cost effective and high quality radio network plan the well-known theoretical details have to be bound with practical radio planning issues like planning phases and planning parameters. At the same time the long-term network evolution paths and the possible changes of the radio propagation environment have to be well understood.
Radio Interface System Planning for GSM/GPRS/UMTS introduces the radio system planning where these theoretical and practical details have both been emphasized and then utilized for the planning of GSM, GPRS and UMTS mobile networks. The key planning parameters for these systems are explained and the typical values for power budget, various margins, gains and losses, and frequency reuse are given. Also, the book describes the common tasks in radio system planning. The planning methods and phases introduced in the book can also be applied to other mobile communication systems.
Not all books on AvaxHome appear on the homepage.
In order not to miss many of them follow
ebooks section
(see top of each page on AH)
and visit
my blog
too :)
NO MIRRORS according to the rules