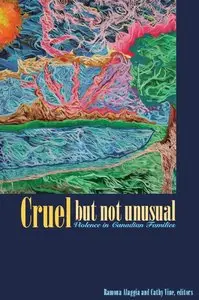 Ramona Alaggia, Cathy Vine - Cruel but Not Unusual: Violence in Canadian Families
Wilfrid Laurier University Press | 2006 | ISBN: 0889204039 | Pages: 536 | PDF | 2.22 MB
Violence in families and intimate relationships affects a significant proportion of the population—from very young children to the elderly. Although no one is immune to violence, some groups are particularly vulnerable. Cruel but Not Unusual: Violence in Canadian Families is the first book to offer a national survey of the latest research and practice, and it reflects on the patriarchal roots and societal conditions in Canada that have led to the long-standing abuse of women and children. While feminist theories provide an overarching framework, a broad range of approaches is offered to examine and respond to critical aspects of this serious social problem. Topics include: systemic oppression of Aboriginal families and communities; violence in a francophone minority context; child corporal punishment; abuse in the lives of people with disabilities; the objectification of older adults; mother blaming; intimate violence in same-sex relationships; and new approaches to solving the problem of violence in Canadian families.