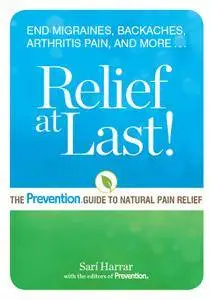 Relief at Last!: The Prevention® Guide to Natural Pain Relief by Sarí Harrar
English | March 13th, 2012 | ASIN: B007SWC8C6, ISBN: 1609610474 | 610 Pages | EPUB | 1.42 MB
Chronic pain is something that no one should have to suffer from, yet 50 million Americans do. But new research can help put an end to that. Relief at Last! by Sari Harrar is a comprehensive guide that exposes the root causes of more than 60 common conditions—from tendinitis to heartburn to fibromyalgia—and helps readers find immediate relief from pain, in addition to everyday strategies to permanently alleviate ailments of the joints, muscles, and other achy body parts.
So that readers don't need to wade through the staggering amount of contradictory information about what's safe and what's effective, Relief at Last presents the latest doctor-reviewed research to provide an overview of where and why pain begins, and then put that knowledge to use in determining the best way to say goodbye to it forever—using proven combinations of conventional and complementary therapies.
Pain is different for every individual. With the knowledge provided in Relief at Last and an easy-to-use pain diary to track success, readers will equip themselves with all the tools needed to manage flare ups and find a customized solution to reduce their pain over the long term.