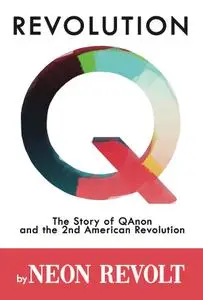 Revolution Q: The Story of QAnon and the 2nd American Revolution by Neon Revolt
English | November 6th, 2019 | ISBN: 1949709590 | 827 pages | EPUB (True/Retail copy) | 113.16 MB
Who Is QAnon?
There's a revolution going on in America, and up until this point, most had no idea anything was happening at all.
Unbeknownst to the general public, an insider embedded deep within the Trump administration was given a nearly impossible task:
• Assemble a team of patriots; Military Intelligence types, who knew the real score.
• Bypass the media and create a parallel construction.
• Engage with a select group of superlative civilians, so that they can spread the word.
• Systematically expose a world-wide death-cult that has seeped in to all levels of power, in all countries, and which has ruled for generations.
And finally…
• Dismantle this Hellish Cabal, before dragging them in to face finally justice for their countless crimes against humanity.
Along the way, thousands of "digital soldiers" volunteered their time, their energy, and their resources to advancing this cause. And as the word of QAnon spread, their ranks and exploits grew.
I, Neon Revolt, feel privileged to count myself among their ranks.
This is my story.
This is the story of Anons and the Great Awakening.
This is the story of QAnon.
Enjoy
My Blog
. No any convert or low quality!