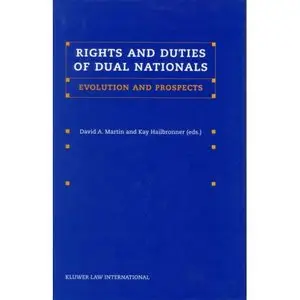 David Martin, "Rights and Duties of Dual Nationals"
Publisher: Springer | 2002-11-21 | ISBN 9041119329 | PDF | 368 pages | 21.6 MB
The increased emergence of dual and multiple nationality in our globalized world has recently led to public and scholarly debates on a number of resulting practical questions. This book comprehensively evaluates the legal status of dual nationals on the basis of a comparative analysis, with emphasis on practice and law in the United States of America, the Federal Republic of Germany, Turkey and other selected countries, comprising contributions of both academics and practitioners. Among the legal subjects examined more intensively are the exercise of political rights by dual nationals, including voting and office holding, performance of military service, loss and withdrawal of citizenship, and effects of dual nationality on judicial cooperation, as well as aspects of private international law. The authors pay attention to developmental trends and legal changes in various countries, and also to the philosophical and theoretical perspectives underlying various practices. Specific recommendations for states dealing with dual nationality complete the investigation.