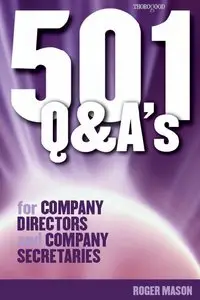 Roger Mason - 501 Questions and Answers for Company Directors and Company Secretaries
Thorogood | 2005 | ISBN: 1854183400 | Pages: 450 | PDF | 1.52 MB
Everything the Company Director or Company Secretary needs to know, fully up to date with all the law, accessible and easy to use
Accessible and easy to use
Helps you avoid expensive mistakes
Saves time and professional fees
Fully up to date with the latest law
Jargon-free, packed with expert advice
A goldmine of information, this major new reference work covers every topic of relevance to the Company Secretary and Company Director.
You'll find speedy access to the information you need and expert guidance on a vast range of frequently asked - and less frequently asked questions.
Fully up to date with all the latest changes in the law and practice, it will save you hours of research and give you answers and practical solutions to all your queries.
It will prove indispensable to directors and company secretaries in both small, medium and large companies, helping to avoid expensive mistakes and saving time and professional fees.