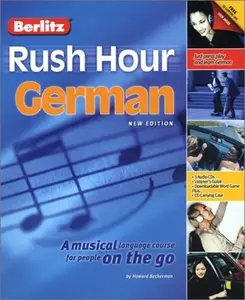 Berlitz Rush Hour German (Audiobook)
Berlitz Travel Guide | 2003 | ISBN: 9812462740 | Audio CD | mp3 | 171 MB
A musical language course for people on the go
Have you ever noticed how you still remember words to a song you haven t heard in years? Berlitz Publishing knows that putting words to music makes the words easier to remember. Rush Hour uses the power of catchy melodies and dynamic rhythms to introduce you to basic German expressions and vocabulary for everyday life. Rush Hour German holds listeners interest by following a day in the life of its main character, Jon, who wishes to learn the foreign language of a girl he wants to date. As he learns German, so will you! Original music and catchy songs help you remember everyday words, phrases, and sentences and the romantic, exciting storyline keeps you involved.
How does the course work?
1. All audio course listen and learn at home, at the gym, in the car, on the plane
2. 10 short lessons fit easily into your busy lifestyle
3. Get additional support online–go to berlitzpublishing.com for a downloadable audio script and learner s guide
Topics include:
*Greetings
*Telling time
*Transportation
*Weather
*Jobs
*Food
*Shopping
*Sports
*Leisure activities
*Leisure activities
part1
part2
Not all books on AvaxHome appear on the homepage.
In order not to miss many of them follow
ebooks section
(see top of each page on AH)
and visit
my blog
too :)
NO MIRRORS according to the rules