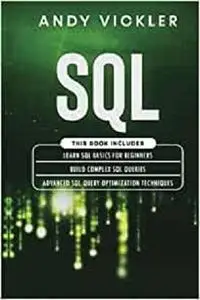 SQL: This book includes : Learn SQL Basics for beginners + Build Complex SQL Queries + Advanced SQL Query optimization techniques by Andy Vickler
English | July 12, 2021 | ISBN: N/A | ASIN: B0997T9GGQ | 604 pages | EPUB | 0.67 Mb
Are you thinking about learning SQL, but not sure where to start?
Big data is prevalent now, with more data than we ever dreamed possible being made available . And all that data needs to be stored in such a way it can be easily accessed.
That's where databases and SQL come in, providing the means to manage and interpret data easily. SQL is the go-to language for database management, the most reliable and widely used, and it's showing no signs of losing its popularity.
This SQL guide for beginners covers all the basics you need to know about working with data and databases. The book is divided into six parts and includes instructions on downloading a sample database to work with throughout.
In this guide, you will learn:
• How to install SQL Oracle
• How to query data
• How to sort and filter tables
• Using the SELECT statement
• Using the ORDER BY and WHERE clauses
• Oracle operators
• All the different Oracle Joins, including INNER, OUTER, LEFT, RIGHT, and more
If you are interested in learning SQL, this is the best place to begin and set yourself on course to become a master SQL programmer.
Do you use SQL at work or at home and want to learn how to use the right functions and queries to extract the relevant details in the database? Do you want to learn how to generate the right views and more? If you answered yes, then you are in the right place.
Many companies collect information from different sources and use that information to improve their revenue. It is difficult to work with large volumes of data, but companies have to learn how to collect that information in data warehouses or databases. Only when the data is stored can it be analyzed and used to improve business decisions.
If you are using SQL for the first time, then this book is for you. You can use it as your guide through the various and needed aspects of querying. In this book, you will learn more about the language and how you can use it to extract the necessary information from the dataset. You will learn about:
● SQL and its benefits
● Various data types used in SQL
● How to manage and retrieve the relevant objects and data from the database
● Common mistakes and how to overcome them
● How to protect the database from hacking
● Using Joins, Subqueries, and Set Operators
● And more!
If you want to master SQL, then a little practice is required. Use the examples and exercises in this book to improve your skills and learn how to build complex SQL queries. So, what are you waiting for? Grab a copy of this book now!
Many companies worldwide suffer from one fundamental problem, and that is the inefficient functioning of their databases. While many know of database tuning and work to cover that aspect, professional database developers, managers, and administrators always miss one thing: optimizing their queries to save maximum time and cost and provide the query efficiently.
Here are some ways this book will prove beneficial for readers of all types, e.g., database administrators, teachers, students, or people genuinely interested in databases:
• This book is free of any sort of jargon and complex discussions. The simple language aims to make it accessible to and implementable for people of all backgrounds.
• This book uses a very balanced approach. Too much time is not given to concepts that may be irrelevant, nor is anything missed out (purposefully) that may be of substantial importance to the readers.
By the end of this book, readers will have a greater understanding of databases and understand all the considerations of efficient use of databases.
Take your database career to the next level!
Feel Free to contact me for book requests, informations or feedbacks.
Without You And Your Support We Can't Continue
Thanks For Buying Premium From My Links For Support